How to tell the gender of your toad
Edit
Telling the gender of your toad is actually very easy, for starters,you can look at the bottom of their throat. If it's yellow, it's a girl. If it's white, it's a boy. You can also tell the feet. If the toes are long, it's a girl. If they're short, it's a boy. Boy and girl toads look alike, but if you can identify these two things, you should be able to determine your toad's gender.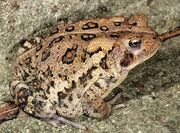 If you have any questions about telling your amphibian friend's gender, please contact Karen D. , Kelsey D. or Erik D..  Have fun with your amphibian friends!
Community content is available under
CC-BY-SA
unless otherwise noted.